The Expressions Difference
Every dental practice offers dental care, but we offer more. Our state-of-the-art technology, our advanced techniques, our expertise, education, and training, our beautiful office, our focus on whole-person health, and our kind, understanding professionals who will instantly put you at ease set us apart from the rest. The Expressions Difference is that our patients actually enjoy coming to the dentist!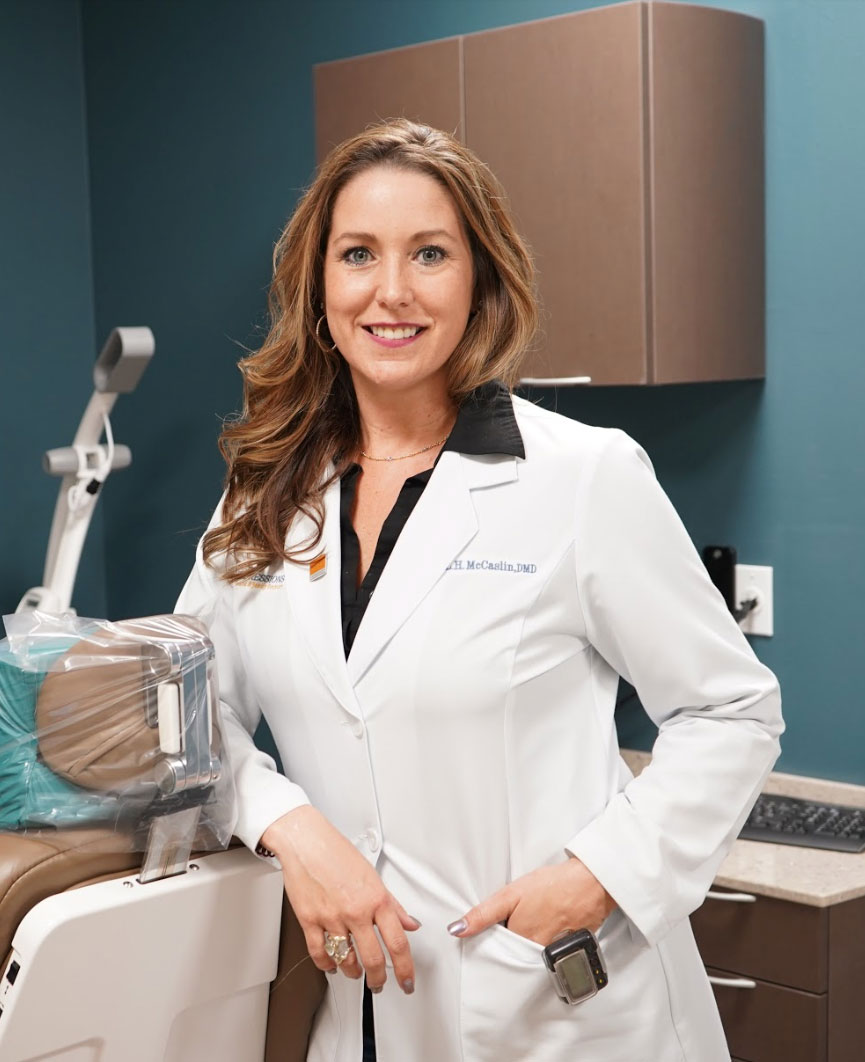 Originally from Owensboro, Kentucky, Dr. Lyndsay H. McCaslin graduated cum laude from Western Kentucky University in Bowling Green, with a Bachelor's Degree in 2002. During that time she was active in the National Honors Society, Alpha Epsilon Delta, the America Student Dental Association, Kappa Delta sorority and the Equestrian team. With experience in differing dental offices since 1997, Dr. McCaslin soon graduated from the University of Kentucky, College of Dentistry.
In the heart of horse racing country of Lexington, Kentucky, she continued her active memberships with the American Student Dental Association and joined the Kentucky Student Dental Society and the America Association of Women Dentists.
Dr. Laura Goodwin earned her Bachelors of Science in Health & Exercise Science from Furman University, where she played Division I Tennis and became an All-American her senior year. She then went on to the University of Florida College of Dentistry where she graduated in the top 10% of her class in 2013. After graduating, Dr. Goodwin completed a one-year Advanced Education in General Dentistry Residency at the Bay Pines VA Hospital in St. Petersburg, FL.
Dr. Goodwin practices preventative and comprehensive dentistry by focusing on the oral needs of her patients as a whole, not just their teeth. The mouth serves as a window to the rest of the body, which means oral conditions have a large impact on overall health. Dr. Goodwin loves helping her patients to achieve optimal oral health and function on a daily basis through education and addressing issues before they escalate.
Dr. Goodwin stays active in organized dentistry by being a member of the Academy of General Dentistry, Upper Pinellas County Dental Association, West Coast District Dental Association, Florida Dental Association and American Dental Association. Dr. Goodwin is also a Fellow of the International Congress of Oral Implantologists. She is a strong believer in lifelong education and enjoys furthering her knowledge base by staying up to date with the latest procedures and technologies. She has taken advanced trainings in implant dentistry, CEREC technology, esthetic and cosmetic dentistry, and clear aligner orthodontic therapy.
Over the years, Dr. Goodwin has volunteered and given back to those who cannot access or afford dental care through Mission of Mercy, child sealant programs, mission trip to the Dominican Republic and working on mobile dental units that travel throughout the state of Florida.
Dr. Goodwin lives in Tampa with her husband, Justin, and their dog, Cooper. She loves to play tennis, vacation in Lake George, NY, and spend time with her family and friends in the beautiful, sunny Tampa Bay weather.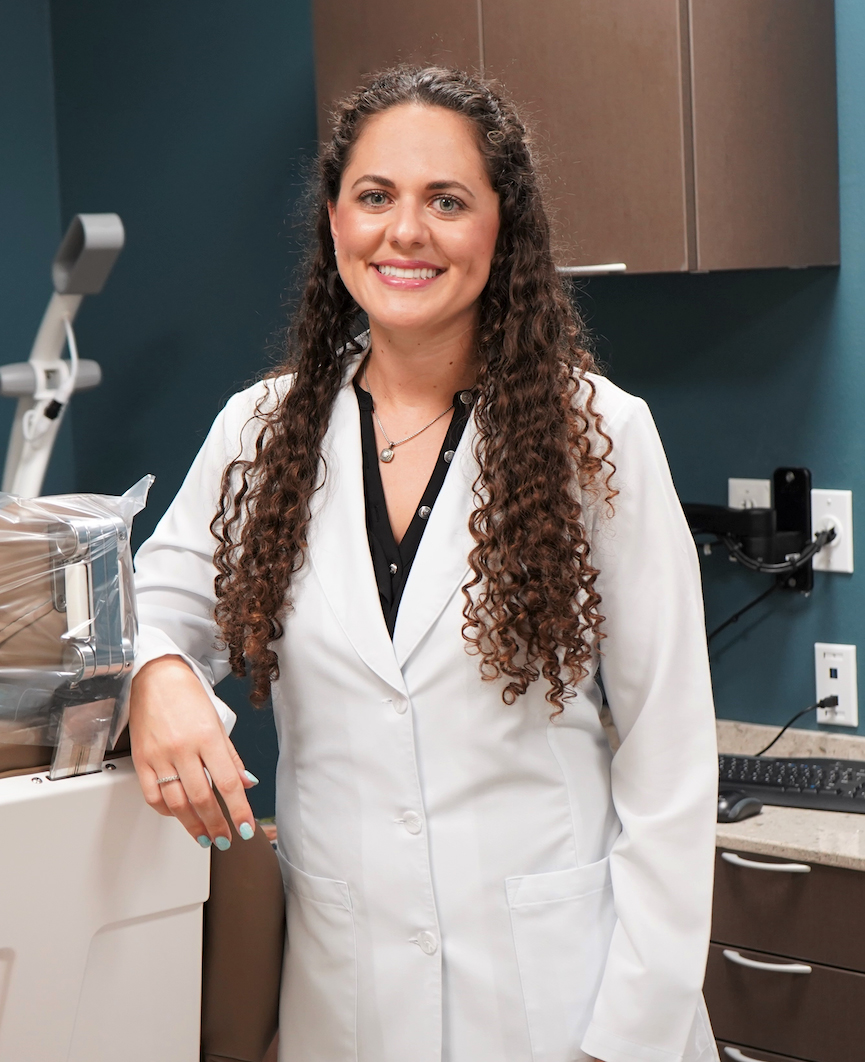 Testimonials
"Dr Lyndsay McCaslin is Honestly one of the best dentists I have ever had! I appreciate her recommendations for any extra care I may need to pay attention and adhere too upon and after an examination. In addition the hygienist are very thorough, knowledgeable, friendly and understanding as well. I have actually always enjoyed going to the dentist but for people who do not look forward to their dental exams might feel better about it if they come here."
Testimonials
"I absolutely love expressions dentistry!! They have the best chair side manners for a dentist office. They are as gentle as need be. My children absolutely love this office, They have no fear of dentist offices anymore! They are by far the best dentist office in Pinellas County. The whole staff is amazing!! I'm so comfortable in this office, I fell asleep 2 different times while she was doing all the work in my mouth!"
Testimonials
"I went for my routine dental checkup which included xrays and cleaning. From the time I entered the office to the time I left all staff was friendly and helpful. The hygienist was friendly, gentle, and explained everything before it was performed. The dentists came in and reviewed the xrays with me and future treatments in an understandable manner. I would recommend this dentist to all my friends and family as one of the best!"
Testimonials
"What a wonderful experience. I have never been to a dental office like this. I'm not sure I could go back to the "old" way. The staff were absolutely charming. I loved the dentist. She explained the reasons behind the dental changes I had and the treatment. I didn't feel like a number, even though it was my first visit. I felt like I had been going to that office for years. I actually look forward to my next visit. Who says that about the dentist? Definitely will refer to everyone I know."
Testimonials
"Not something you expect to hear about a visit to the dentist, but the efficiency and professionalism of Lindsay McCaslin and her staff, from assistants to the front office, made what could have been an ordeal a relatively pleasant experience."
Exam, X-ray and Cleaning – $190