Your health is our mission
About Oral Cancer Screenings
Did you know that oral cancer is the sixth most common cancer type in the world? Adults under 40 should be screened once a year, but if you use tobacco or drink alcohol excessively, you should be screened twice a year, because you are at a higher risk of being diagnosed with oral cancer. Early detection greatly increases the likelihood of successful treatment. At Expressions Cosmetic & Family Dentistry, we make it our priority to check the health of your whole mouth at every visit.
Our highly skilled, experienced dentists know exactly what to look for and test when it comes to discovering oral cancer. We can discuss ways to lower your risk and help you understand your treatment options if there are any concerns we find. Let the Expressions Dentistry team provide you with top-notch preventative care! Contact us today to schedule an oral cancer screening.
Before an oral cancer screening, we will ask you to remove any dentures or partials, so we can examine all soft tissue areas of the mouth. We will ask you certain questions to understand any unusual symptoms, changes, or issues you are having. At Expressions, we use the VELscope® Vx Enhanced Oral Assessment System to conduct oral cancer screenings. This is advanced, wireless technology that uses natural tissue fluorescence to illuminate abnormalities not visible to the naked eye. It is recognized by the World Health Organization and is completely painless! We understand that any mention of the word "cancer" can make people scared, but oral cancer screenings are a routine, easy way to stay healthy! Our compassionate professionals will help you feel at ease and identify any potential issues.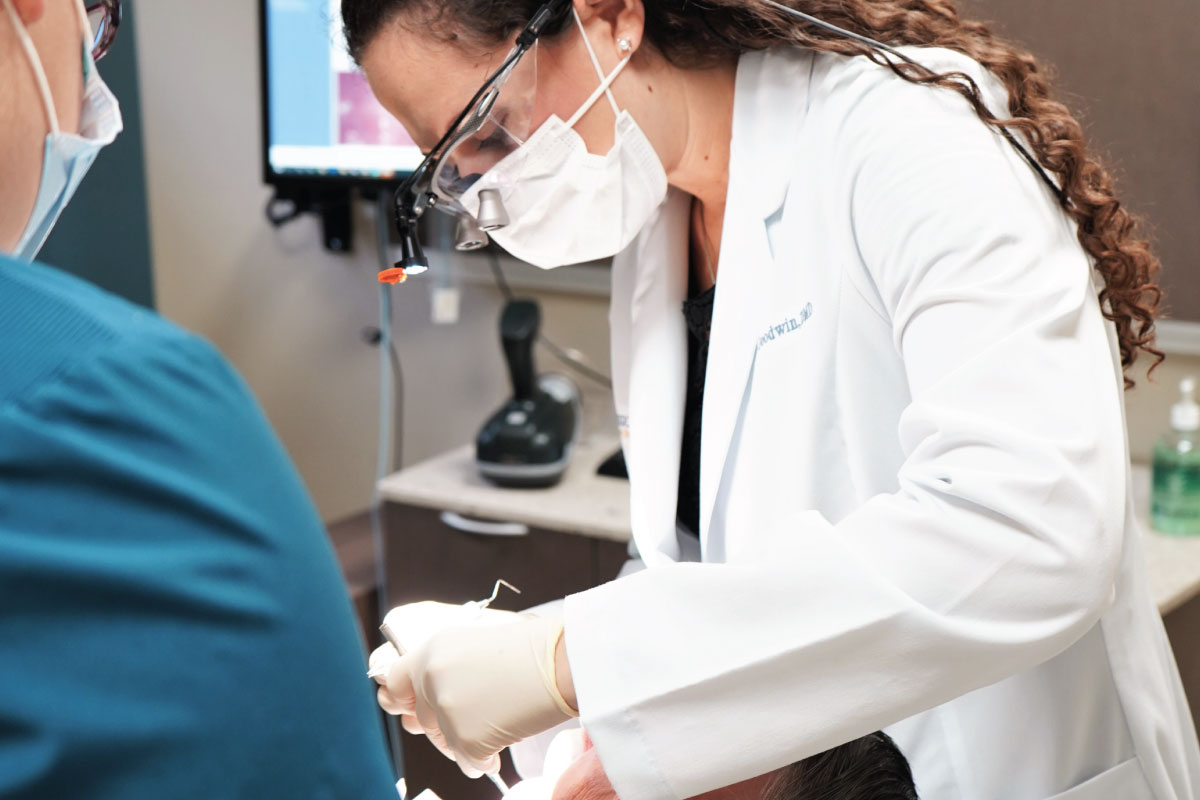 Testimonials
"Dr Lyndsay McCaslin is Honestly one of the best dentists I have ever had! I appreciate her recommendations for any extra care I may need to pay attention and adhere too upon and after an examination. In addition the hygienist are very thorough, knowledgeable, friendly and understanding as well. I have actually always enjoyed going to the dentist but for people who do not look forward to their dental exams might feel better about it if they come here."
Testimonials
"I absolutely love expressions dentistry!! They have the best chair side manners for a dentist office. They are as gentle as need be. My children absolutely love this office, They have no fear of dentist offices anymore! They are by far the best dentist office in Pinellas County. The whole staff is amazing!! I'm so comfortable in this office, I fell asleep 2 different times while she was doing all the work in my mouth!"
Testimonials
"I went for my routine dental checkup which included xrays and cleaning. From the time I entered the office to the time I left all staff was friendly and helpful. The hygienist was friendly, gentle, and explained everything before it was performed. The dentists came in and reviewed the xrays with me and future treatments in an understandable manner. I would recommend this dentist to all my friends and family as one of the best!"
Testimonials
"What a wonderful experience. I have never been to a dental office like this. I'm not sure I could go back to the "old" way. The staff were absolutely charming. I loved the dentist. She explained the reasons behind the dental changes I had and the treatment. I didn't feel like a number, even though it was my first visit. I felt like I had been going to that office for years. I actually look forward to my next visit. Who says that about the dentist? Definitely will refer to everyone I know."
Testimonials
"Not something you expect to hear about a visit to the dentist, but the efficiency and professionalism of Lindsay McCaslin and her staff, from assistants to the front office, made what could have been an ordeal a relatively pleasant experience."
Exam, X-ray and Cleaning – $190