Achieve quality sleep and avoid serious health risks
Sleep apnea is a sleeping disorder that affects an estimated 22 million Americans. The most common form, obstructive sleep apnea (OSA), occurs when the muscles in the back of your throat relax while you are asleep; your airway narrows, which lowers the oxygen level in your blood. Your brain notices that you cannot breathe properly and wakes you from a deep sleep to a lighter sleep in order to help you breathe normally again, though the instances are so brief that you may not even realize that it is happening. This can happen hundreds of times each night.
Symptoms of sleep apnea include, but are not limited to, snoring, waking up with dry mouth or a headache, irritability, and feelings of fatigue. The disorder is more common in men than in women. OSA, if left untreated, can lead to more severe medical issues like diabetes, acid reflux, heart attacks and cardiovascular complications, strokes, depression, and high blood pressure. Luckily, sleep apnea is treatable! The team at Expressions and Cosmetic and Family Dentistry can help you understand your options and determine the right course of action. Depending on your specific case, you may require a CPAP device (continuous positive air pressure), an oral device, or surgery. Contact us today to schedule an appointment to discuss treatment options for sleep apnea!
Getting good sleep is critical to optimal health. At Expressions, we are one of the few dental practices in the area that specializes in sleep apnea treatment. If you believe you have sleep apnea, we can discuss your symptoms in order to give you an accurate diagnosis, and depending on the cause, treat it in our office (some patients require surgery, which we do not perform in-office). Our most popular treatment option, a CPAP device, keeps your airway open while you sleep by supplying air through your nasal passages. We show you exactly how to use it and give you instructions to take home and follow. We will schedule a follow-up appointment to assess how the treatment is progressing and decide if any additional action is needed. Our expert dentists can restore your rest!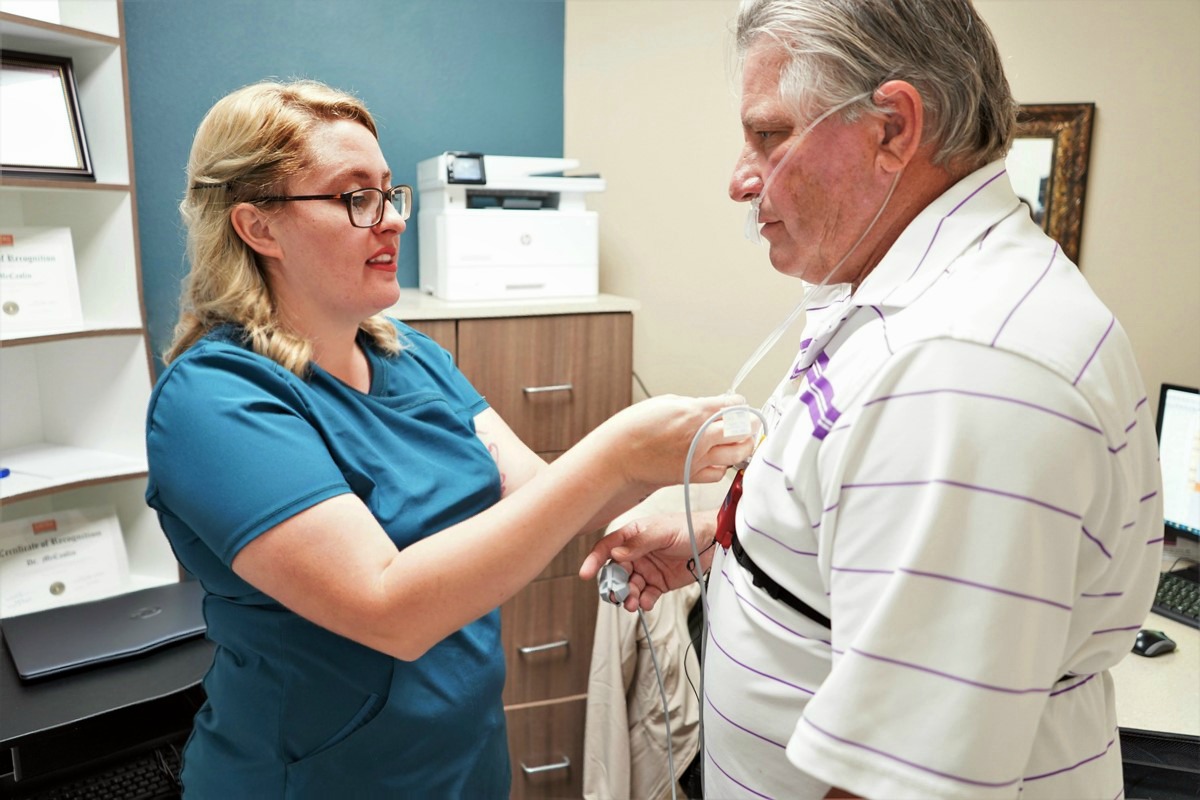 Testimonials
"Dr Lyndsay McCaslin is Honestly one of the best dentists I have ever had! I appreciate her recommendations for any extra care I may need to pay attention and adhere too upon and after an examination. In addition the hygienist are very thorough, knowledgeable, friendly and understanding as well. I have actually always enjoyed going to the dentist but for people who do not look forward to their dental exams might feel better about it if they come here."
Testimonials
"I absolutely love expressions dentistry!! They have the best chair side manners for a dentist office. They are as gentle as need be. My children absolutely love this office, They have no fear of dentist offices anymore! They are by far the best dentist office in Pinellas County. The whole staff is amazing!! I'm so comfortable in this office, I fell asleep 2 different times while she was doing all the work in my mouth!"
Testimonials
"I went for my routine dental checkup which included xrays and cleaning. From the time I entered the office to the time I left all staff was friendly and helpful. The hygienist was friendly, gentle, and explained everything before it was performed. The dentists came in and reviewed the xrays with me and future treatments in an understandable manner. I would recommend this dentist to all my friends and family as one of the best!"
Testimonials
"What a wonderful experience. I have never been to a dental office like this. I'm not sure I could go back to the "old" way. The staff were absolutely charming. I loved the dentist. She explained the reasons behind the dental changes I had and the treatment. I didn't feel like a number, even though it was my first visit. I felt like I had been going to that office for years. I actually look forward to my next visit. Who says that about the dentist? Definitely will refer to everyone I know."
Testimonials
"Not something you expect to hear about a visit to the dentist, but the efficiency and professionalism of Lindsay McCaslin and her staff, from assistants to the front office, made what could have been an ordeal a relatively pleasant experience."
Exam, X-ray and Cleaning – $190